Carport Conversion FAQs
When planning to enclose a carport to convert it in to a garage, there are several common questions that people raise (including how long it takes, which can be less than one full day). Let's quickly go through a few more of the top questions and then you can read more detail below.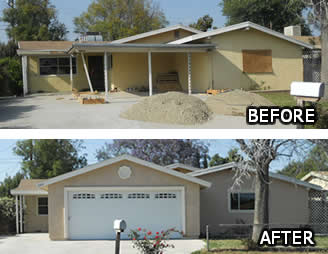 1. What does a carport conversion typically cost?
2. What about building codes & permits?
3. How much lasting value will the conversion bring?
4. What about insurance coverage?


First, most people may ask what a carport conversion typically costs and how much lasting value they will get from their investment.
The total that we charge for enclosing a small carport is often under $2000, although some carport remodels are much more costly (like if the concrete foundation is cracked or the roof is unstable).
For more details, you can read our report on
typical costs for converting a carport to a garage
, which includes sections on why some conversions cost so much more and why some cost less than average.
"Should I get a building permit and inspection for my carport conversion?"
Next, people who are very cautious may also ask about
building codes
(and the realted issue of insurance coverage, which we will address below). Basically, the safest thing to do is to always follow the building codes and get the right permits and inspections. That can cost a few hundred dollars more (depending on exactly how much value the city officials estimate that the carport will add to your home), although getting a permit will totally avoid potential complications when attempting to sell or refinance the home, plus avoids the risk of an insurance company denying a claim (because of no proof that all building codes were followed during the construction / remodel / renovation).
If any of these details are unfamiliar to you, then why not hire an experienced carport conversion service in AZ to keep things simple and relaxed for you? For more on building permits and insurance coverage, plus an index to the relevant building codes for various cities around Phoenix AZ, click here:
Arizona
. For more details, including about the added security of having an enclosed garage, see below.
Besides extra enclosed storage space, what is the long-term value?
Are you a landlord? Especially for landlords who will rent out the home in Phoenix after enclosing a carport, you also want the lasting value of having garage doors that have been installed properly (so there is no hassle of correcting any errors in the bracing, in the alignment of wheels and tracks, or in the compatibility between the weight of the doors and the power of the opener).
A properly-installed carport conversion can add a thousand dollars per year to the rent you can charge, plus it could make the home much easier to rent. It will "pay for itself" within only a few years and then produce lasting profits. However, if the garage door is not properly installed, then that can lead to the need for constant repairs or even re-installation. So, we invite you to hire a remodeling contractor in AZ with lots of experience doing installing garage doors on their carport conversion renovations.
Further, whether you live there or rent out the house in Phoenix, when you eventually sell the home, an enclosed garage will not only make it easier to sell, but many sellers in Arizona can produce an increase in the actual selling price of the home that is bigger than the total cost of the conversion. If none of your neighbors in that part of Phoenix have garages and your house does, then that can definitely make your home stand out to someone who wants to buy a home in your area, but wants the security and convenience of an enclosed garage.
So, if you can get a fully-permitted and city-inspected carport conversion for a few thousand dollars or even less, then that means that most landlords renting out a home in the Phoenix area can expect to be able to raise rent enough that, within a few years, they will recover the cost of the carport conversion, After that, all the continuing extra cash flow will be a net profit.
Why do some local companies seem so confused about carport conversions in Phoenix?
Note that on many websites of other local companies that offer carport conversions, they present information that is wildly misleading in regard to the re-sale value after converting a carport to a garage in Phoenix. Specifically, two local AZ companies have linked to
this report
and misrepresented the data in that report. The companies explicitly reference the data for "adding a new garage" (like an entirely new structure that is not attached to your main home). That is not carport conversion! They even show the costs of these renovations as ranging from $50,000 - $80,000, which is way too high for a simple conversion .
The reality is that converting a small carport to a garage typically costs a few thousand dollars or less. A carport conversion mainly involves adding one or two walls plus installing the new garage door. So, avoid being misled by the grossly imprecise statements of unscrupulous businesses. Those companies know that converting a carport to a garage in Phoenix is not going to cost $80,000 (which is what it can cost to add a large "upscale" garage from the ground up)!
I have seen other confusing info on the internet, too, although some of that could be because people may make honest mistakes (like repeating a mistake they found somewhere else). Converting a garage to living space can involve extensive renovations to meet a variety of building codes (like flooring, windows for sunlight, ventilation for heating and cooling, and smoke detectors). That kind of remodeling can cost from $10,000 to $15,000 (according to an article on Angie's List that mentions
converting a garage to living space
in two parts of Arizona). However, a realtor serving the west side of Phoenix wrote that "Converting [a] carport into a garage can cost you anywhere from
[put your mouse here to see the questionable data]
." Sorry, but those numbers are high even for converting a garage in to living space!
For a simple
carport conversion
in Phoenix, you are not going to pay the same price as it costs to build from scratch a detached garage (from the foundations to the roof). In fact, this article on
carports, garages, & conversions
states that building a small garage can cost just a few times more than a carport.
So, as a final comment on this subject, note that the investment return (at re-sale of a home) on the cost converting a carport to a garage is usually far better than when adding a garage (which is often a quite unfavorable return, as reported in the images above). Obviously, there is huge added value in having the secure, enclosed storage space of a garage (relative to a carport). In some neighborhoods, a home with a garage can be much easier to sell (or even to rent). In fact, for landlords in Phoenix, it typically takes a few years for the increased rent to cover the initial cost of the carport conversion and then, after that, the residual profits can be several times the original investment.
Our experience will keep the process simple and smooth
The most important thing with your carport conversion in Phoenix is that you are satisfied with the results for many years, right? If you want to skim through several testimonials of happy customers that recommend that you hire us, click here now:
reviews
.
In case you did not learn this next detail yet, our experienced professionals began as specialists in the field of garage door installation. If the garage door does not move smoothly and reliably, you will not be happy with your carport conversion! So, when converting your carport to a garage, wouldn't you value using a construction contractor that has extensive experience with installing a variety of garage doors and openers?
When you hire our professionals to convert your carport in to a garage in Phoenix AZ, you will feel the interest and confidence of our specialists as we speak with you about your priorities and questions. It can be very exciting for you to see the project get completed so smoothly and quickly. You may also be quite relieved to find out how little the entire project will be. Contact us today to
schedule
your consultation.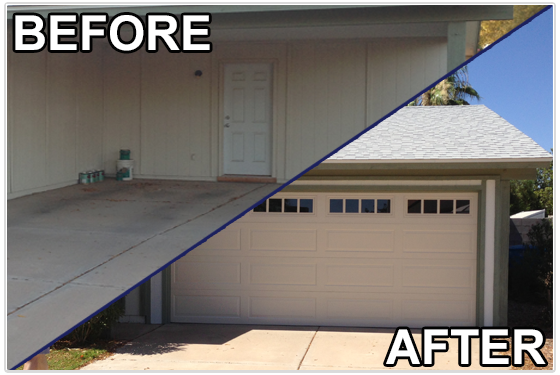 To ask a question or to request that we contact you to schedule
a free estimate, click here now: contact us about carport conversions in AZ